Make your walls no longer monotonous

On a budget for real wood family decoration? Try our WOOD GRAINING TOOL PAINT BRUSH SET which beautifully creates top quality & effect faux wood grain on almost any thinkable surfaces like walls, window frames, and beams, etc. Once having obtained the technique of skilled working with the toolset not only a big bunch of money will be saved for the budget but also makes you a master of future wood family decoration.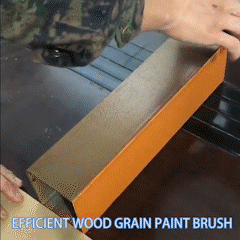 HIGH-QUALITY RAW MATERIAL:
Rugged and soft rubber used as raw material, ergonomic anti-slip plastic handle, super sturdy & durable that greatly helps with wanted vivid grain effect based on long lifespan. 
 WIDE RANGE OF APPLICATIONS:
Accurate target applications as Walls, Window Frames, Beams, Wooden Beaches, and any other wall surface type under the decoration need, wallpaper effect guaranteed. 
 PERFORMANCE AND EFFECT PROMISED:
2 brushes per set and Impressively creates stunning wood knots & grain effects in accordance with a specifically personal family wooden decoration DIY plan. 
 EASY TO CLEAN UP:
A simple running water cleaning is way enough for the job, fast and time-saving.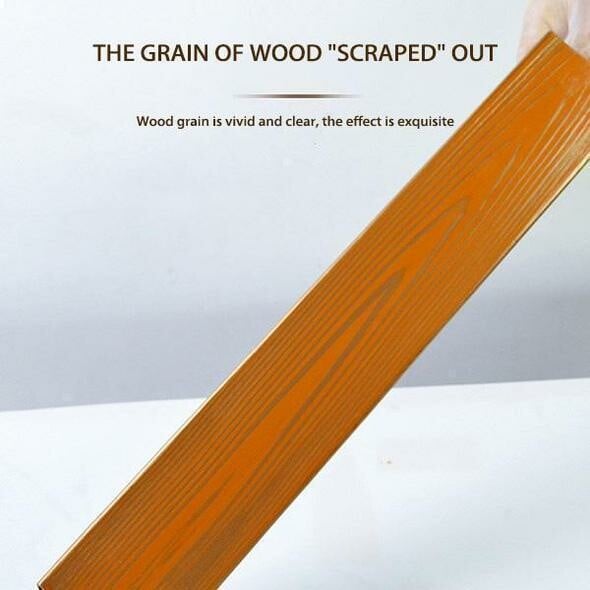 HOW TO USE:
Kindly follow the user manual attached and then give it a shot to DIY your family wood decoration with the toolset, very easy.
 PRODUCT SPECIFICATION:
Name:

 Wood Graining DIY Tool Set ( 2 pcs per pack )

Size:

 

15 x 6.5 cm / 7.5 x 6.5 cm (MS3 ) , 13 x 4 cm / 9 x 3 cm ( MS6 )

Weight:

 Approx 0.17 kg
 PACKAGE CONTENT:
1 x Wood Graining DIY Tool Set ( 2 pcs )
WOOD GRAINING DIY TOOL SET
WOOD GRAINING DIY TOOL SET
Description

Make your walls no longer monotonous

On a budget for real wood family decoration? Try our WOOD GRAINING TOOL PAINT BRUSH SET which beautifully creates top quality & effect faux wood grain on almost any thinkable surfaces like walls, window frames, and beams, etc. Once having obtained the technique of skilled working with the toolset not only a big bunch of money will be saved for the budget but also makes you a master of future wood family decoration. 

 HIGH-QUALITY RAW MATERIAL:

Rugged and soft rubber used as raw material, ergonomic anti-slip plastic handle, super sturdy & durable that greatly helps with wanted vivid grain effect based on long lifespan. 

 

 WIDE RANGE OF APPLICATIONS:

Accurate target applications as Walls, Window Frames, Beams, Wooden Beaches, and any other wall surface type under the decoration need, wallpaper effect guaranteed. 

 PERFORMANCE AND EFFECT PROMISED:

2 brushes per set and Impressively creates stunning wood knots & grain effects in accordance with a specifically personal family wooden decoration DIY plan. 

 EASY TO CLEAN UP:

A simple running water cleaning is way enough for the job, fast and time-saving. 

 HOW TO USE:

Kindly follow the user manual attached and then give it a shot to DIY your family wood decoration with the toolset, very easy.

 PRODUCT SPECIFICATION:

Name:

 Wood Graining DIY Tool Set ( 2 pcs per pack )

Size:

 

15 x 6.5 cm / 7.5 x 6.5 cm (MS3 ) , 13 x 4 cm / 9 x 3 cm ( MS6 )

Weight:

 Approx 0.17 kg

 PACKAGE CONTENT:

1 x Wood Graining DIY Tool Set ( 2 pcs )