FEEL WARM THIS SEASON WITH THESE WARM WINTER CASHMERE PANTS!
Do you want to look stylish but feel warm on this cold season? Does your normal winter pants don't look good in any outfit? No need to worry, this Warm Winter Cashmere Pants will make you look good and warm this season!
These Warm Winter Cashmere Pants are lined with a soft fleece lining that will keep you warm without adding any extra bulk. 
Keep a slim figure while staying warm! 
Protects against cold:

 

protection against wind and cold, permanent heat.
Slimming effect:

 

Our leggings make your legs look slimmer and your buttocks look more lifted.
Extreme comfort:

 

made of a high quality soft material (cashmere). They are perfect for temperatures down to

 

-10°C

 

and its elastic material gives you guaranteed unlimited flexibility.
Suitable for everyone:

 

Our leggings fit all body types and sizes.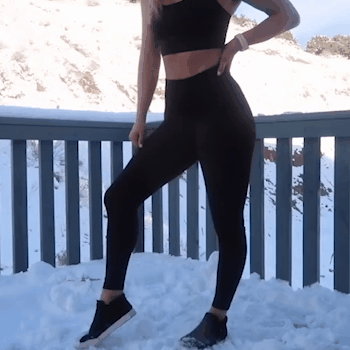 FEATURES
Thick style -

 W

arm cashmere pants let you spend this cold winter warmly. Warm winter leggings are made of

 

high-quality cashmere. Ideal for colder temperatures and the winter season. 
Classic, timeless color - A staple

 autumn and winter color. A choice and stylish match with your winter boots, trendy blouse, long sweater or under a skirt.

Warm and slim

 - 

These leggings will make you slim and it will make you warm this season, they are designed to insulate you but also emphasise the leg in a flattering manner. 

Warm and cosy

 

- With a thermal effect to keep legs 5 degrees warmer or much more. These footless tights are a must-have accessory in your winter wardrobe and can quickly become your best winter-mate to help keep you warm.
Comfort - The

 

Warm Winter Cashmere Pants

 

are supported at the waist by an elastic waistband and can comfortably embrace your legs without looking sagging/ It also provides a barely-there feel that allows your legs to breathe without sacrificing heat.
SPECIFICATIONS
Size: S -XXL
Color: Black, Gray
Super Thick Cashmere Leggings
Super Thick Cashmere Leggings
Description

FEEL WARM THIS SEASON WITH THESE WARM WINTER CASHMERE PANTS!

Do you want to look stylish but feel warm on this cold season? Does your normal winter pants don't look good in any outfit? No need to worry, this Warm Winter Cashmere Pants will make you look good and warm this season!

These Warm Winter Cashmere Pants are lined with a soft fleece lining that will keep you warm without adding any extra bulk. 

 

Keep a slim figure while staying warm! 

Protects against cold:

 

protection against wind and cold, permanent heat.

Slimming effect:

 

Our leggings make your legs look slimmer and your buttocks look more lifted.

Extreme comfort:

 

made of a high quality soft material (cashmere). They are perfect for temperatures down to

 

-10°C

 

and its elastic material gives you guaranteed unlimited flexibility.

Suitable for everyone:

 

Our leggings fit all body types and sizes.
 

 

FEATURES

Thick style -

 W

arm cashmere pants let you spend this cold winter warmly. Warm winter leggings are made of

 

high-quality cashmere. Ideal for colder temperatures and the winter season. 
Classic, timeless color - A staple

 autumn and winter color. A choice and stylish match with your winter boots, trendy blouse, long sweater or under a skirt.

Warm and slim

 - 

These leggings will make you slim and it will make you warm this season, they are designed to insulate you but also emphasise the leg in a flattering manner. 

Warm and cosy

 

- With a thermal effect to keep legs 5 degrees warmer or much more. These footless tights are a must-have accessory in your winter wardrobe and can quickly become your best winter-mate to help keep you warm.
Comfort - The

 

Warm Winter Cashmere Pants

 

are supported at the waist by an elastic waistband and can comfortably embrace your legs without looking sagging/ It also provides a barely-there feel that allows your legs to breathe without sacrificing heat.

SPECIFICATIONS

Size: S -XXL
Color: Black, Gray