Size chart:
These Ice Silk sets are so comfortable for Summer! With Features of High elasticity And Stretched for at least 10 cm, the Brush and scratch-resistant, Breathable, and non-fade.
You can Enjoy a cool Summer this year. And This set can be Pajamas or Suitable for Outdoor.
Trust me, this suits you will never regret having it in your closet! You will be more gorgeous and confident in these adorable sets.
Features:
Flexible And Stretched for at least 10 cm, you are free to wear this set. Brush-resistant and scratch-resistant;
Seamless trimming design,excellent stretch, breathable and absorb sweat, super soft and comfortable;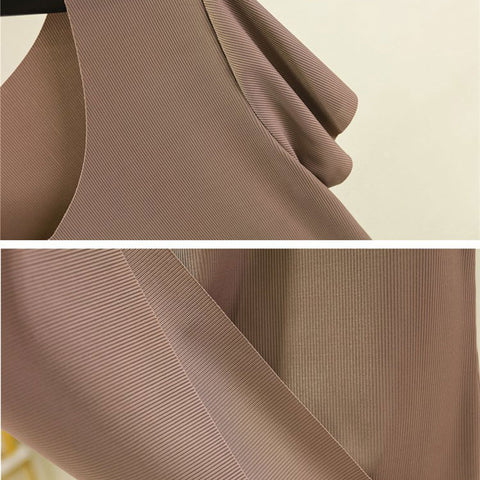 Machine wash cold, no bleach, do not dry clean, Simply hang to dry naturally No fading, hold up well in the laundry;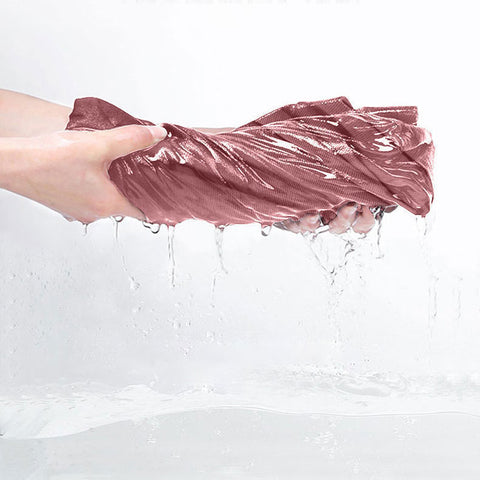 7 colors for your choice,they are suitable for both daily and holiday to wear no matter outdoors or indoors.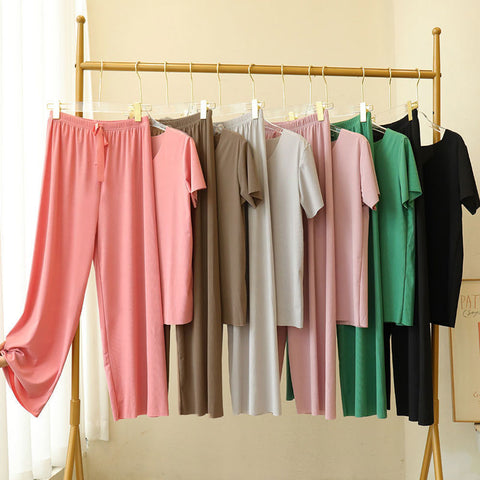 Q&A
Q: Will the pants crack after washing?
Answer: No, it's good quality fabric and tailoring.
Q: Does the size I need to size up?
Answer: No it doesn't, You can choose the size according to our size chart.
Q: What's the material of the sets?
Answer: polyester and spandex.
Q: Are they low waist pants?
Answer: They are high-waist long pants with an elastic waist design.You will feel relaxed when you will it!
Buyer Show:
"Got his cool and very light set of home clothes, the suit was very liked) is made of thin, smooth and cool to the touch material. In summer or on holiday will be perfect)."                              
 ⭐⭐⭐⭐⭐——Susan M.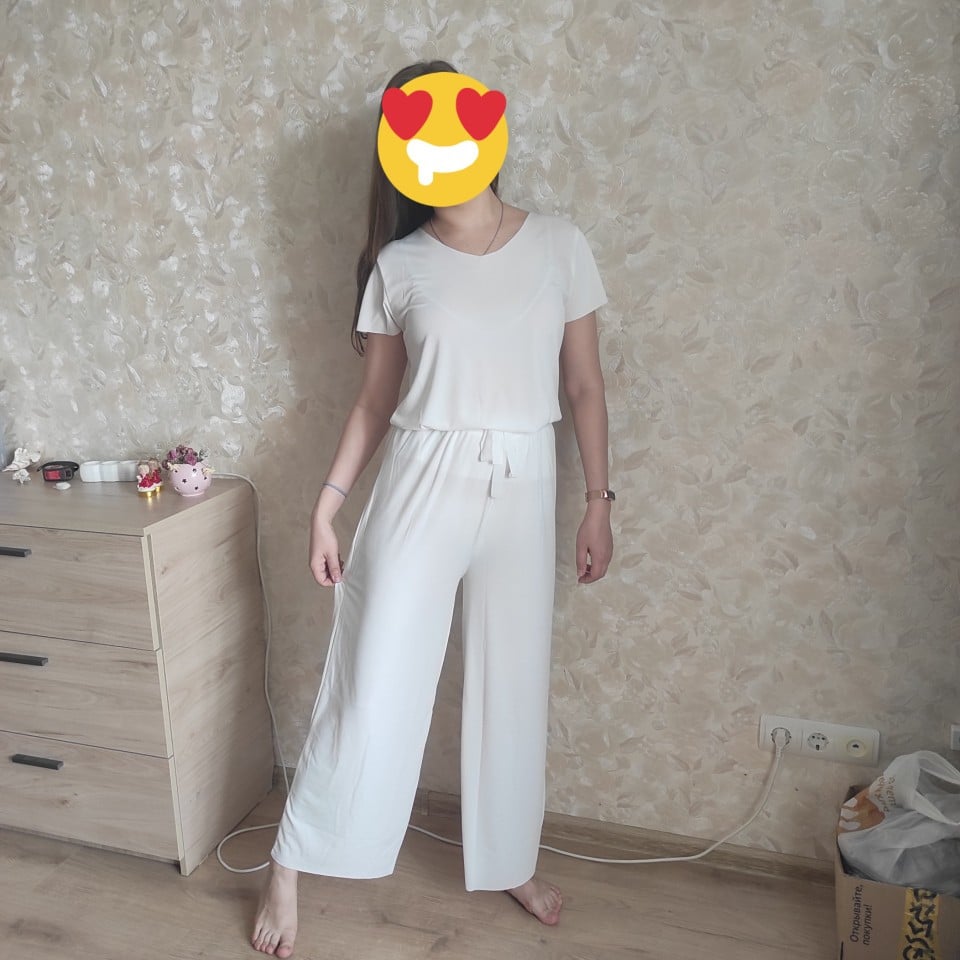 "MUST BUY! This is just an amazing product. Cool suit, very nice to the body, at low height. All the seams are very neatly worked out, the cuts of Calos, sleeves and townhouses are simply cut, but it does not spoil the appearance of the thing.. "                          ⭐⭐⭐⭐⭐——Gina
Specifications:
Style: Set(T-Shirt+Pants)
Color: Khaki, Black, White,Pink, Light Purple, Green, Gray
Material: Ice Silk
Length: Regular
Sleeve: Short Sleeve
Pants: Wide-leg Pants
Occasion:

 Daily, Casual, Holiday, Pajamas, and so on.

Suitable for seasons: Summer, Spring, Autumn

Package Include: 1*Set (T-Shirt+Pants)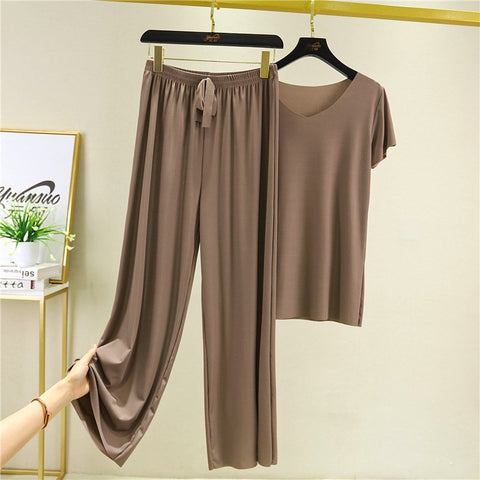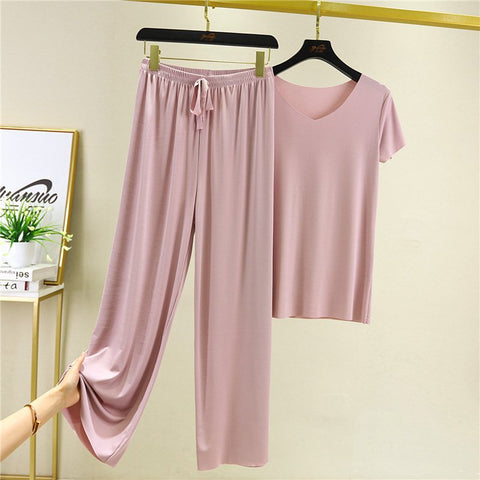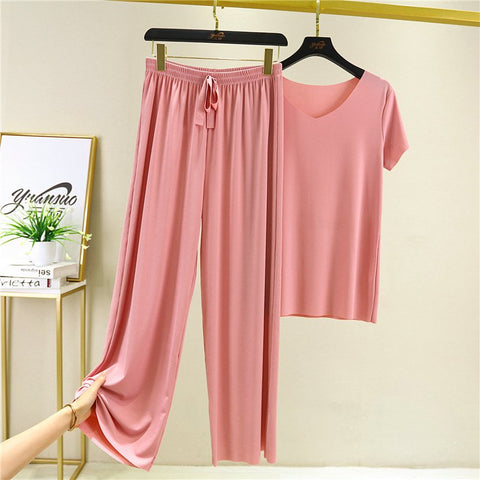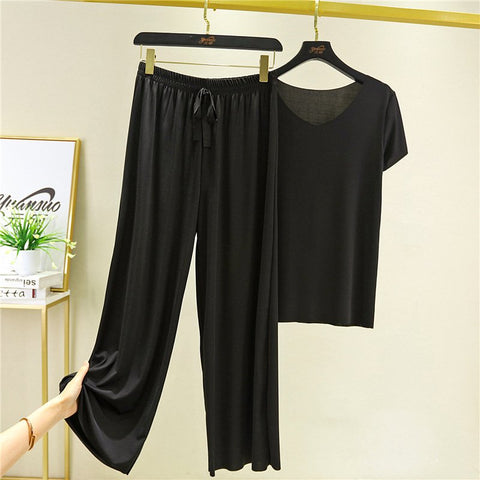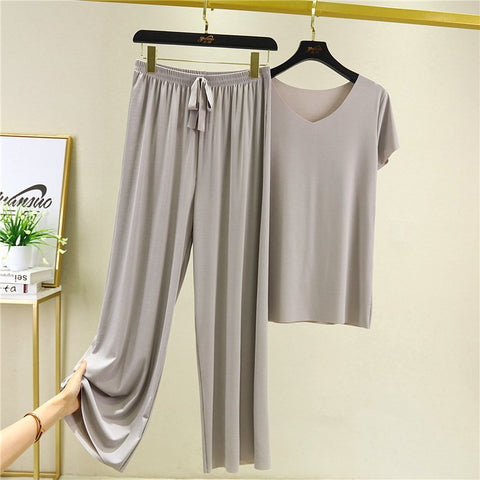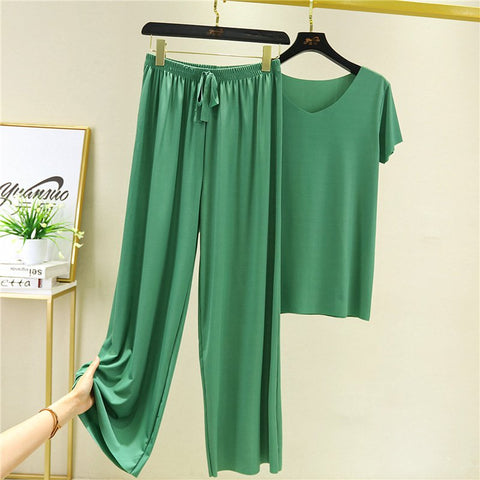 Soft Comfortable Ice Silk Short Sleeve T-Shirt and Loose Pant
Soft Comfortable Ice Silk Short Sleeve T-Shirt and Loose Pant
Description

Size chart:

These Ice Silk sets are so comfortable for Summer! With Features of High elasticity And Stretched for at least 10 cm, the Brush and scratch-resistant, Breathable, and non-fade.

You can Enjoy a cool Summer this year. And This set can be Pajamas or Suitable for Outdoor.

Trust me, this suits you will never regret having it in your closet! You will be more gorgeous and confident in these adorable sets.

Features:

Flexible And Stretched for at least 10 cm, you are free to wear this set. Brush-resistant and scratch-resistant;

Seamless trimming design,excellent stretch, breathable and absorb sweat, super soft and comfortable;

Machine wash cold, no bleach, do not dry clean, Simply hang to dry naturally No fading, hold up well in the laundry;

7 colors for your choice,they are suitable for both daily and holiday to wear no matter outdoors or indoors.

 

Q&A

Q: Will the pants crack after washing?

Answer: No, it's good quality fabric and tailoring.

Q: Does the size I need to size up?

Answer: No it doesn't, You can choose the size according to our size chart.

Q: What's the material of the sets?

Answer: polyester and spandex.

Q: Are they low waist pants?

Answer: They are high-waist long pants with an elastic waist design.You will feel relaxed when you will it!

Buyer Show:

"Got his cool and very light set of home clothes, the suit was very liked) is made of thin, smooth and cool to the touch material. In summer or on holiday will be perfect)."                              

 ⭐⭐⭐⭐⭐——Susan M.

"MUST BUY! This is just an amazing product. Cool suit, very nice to the body, at low height. All the seams are very neatly worked out, the cuts of Calos, sleeves and townhouses are simply cut, but it does not spoil the appearance of the thing.. "                          ⭐⭐⭐⭐⭐——Gina

Specifications:

Style: Set(T-Shirt+Pants)
Color: Khaki, Black, White,Pink, Light Purple, Green, Gray
Material: Ice Silk
Length: Regular
Sleeve: Short Sleeve
Pants: Wide-leg Pants
Occasion:

 Daily, Casual, Holiday, Pajamas, and so on.

Suitable for seasons: Summer, Spring, Autumn

Package Include: 1*Set (T-Shirt+Pants)