NEVER STUMBLE IN THE DARK AGAIN!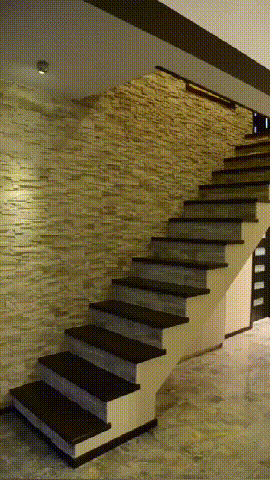 AUTOMATIC SENSOR:  This motion detection cabinet light will turn on automatically within 10 feet and turn off automatically after 12-18 seconds with no motion detection. It is only switched on when it is dark and when movement is detected.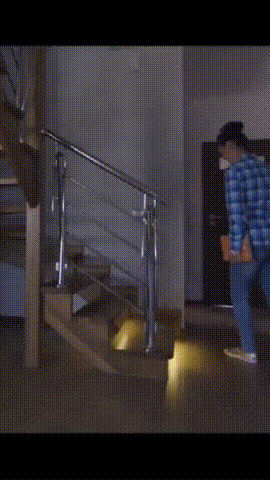 EASY INSTALLATION POSSIBILITIES:  ✔Uses the supplied 3M magnetic strip to stick anywhere, extremely easy to install and remove.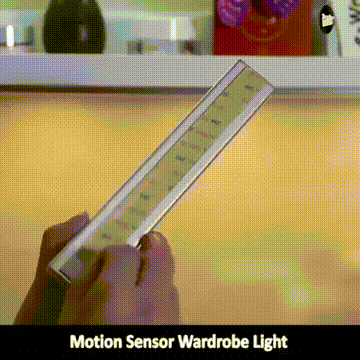 LED NIGHT LIGHTS:  This coat rack light is much brighter than other similar lights. It provides enough light to make sure you never stumble in the dark.
MULTIPURPOSE:  It is a perfect choice for attic, basement, car, chicken coop, children's room, closet, closet, drawer, storage room for emergency supplies, garage, greenhouse, stable, mailbox, medicine cabinet, gun safe, storm cellar, storage unit, tool shed, cosmetic mirror, workplace and so on.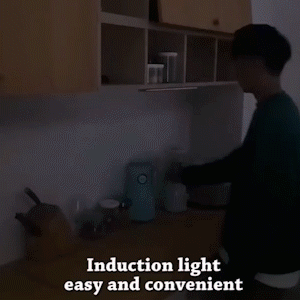 BATTERY OPERATED:   This motion sensitive cabinet light is powered by lithium battery. Intelligent sensor chip with passive infrared technology, reliable performance and high sensitivity detects your movement accurately.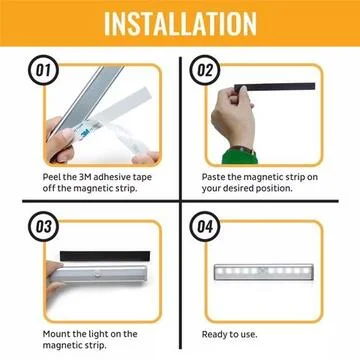 EASY INSTALLATION:

 

 With adhesive tape and magnetic strip, no tools, screws or nuts required. You can stick anywhere.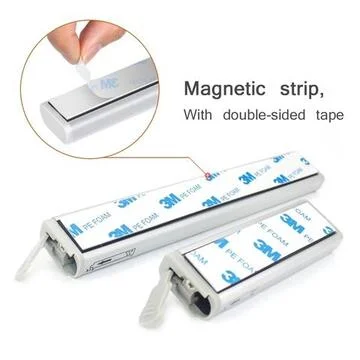 SPECIFICATION:
Working voltage: DC3V-6V
Delay time: 15s
Light color: white / warm white
Super sensitivity distance: about 3-5 meters
Material: aluminum shell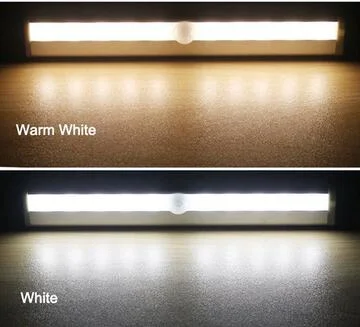 LED Motion Sensor Light
Description

NEVER STUMBLE IN THE DARK AGAIN!

AUTOMATIC SENSOR:  This motion detection cabinet light will turn on automatically within 10 feet and turn off automatically after 12-18 seconds with no motion detection. It is only switched on when it is dark and when movement is detected.

EASY INSTALLATION POSSIBILITIES:  ✔Uses the supplied 3M magnetic strip to stick anywhere, extremely easy to install and remove.

LED NIGHT LIGHTS:  This coat rack light is much brighter than other similar lights. It provides enough light to make sure you never stumble in the dark.

MULTIPURPOSE:  It is a perfect choice for attic, basement, car, chicken coop, children's room, closet, closet, drawer, storage room for emergency supplies, garage, greenhouse, stable, mailbox, medicine cabinet, gun safe, storm cellar, storage unit, tool shed, cosmetic mirror, workplace and so on.

BATTERY OPERATED:   This motion sensitive cabinet light is powered by lithium battery. Intelligent sensor chip with passive infrared technology, reliable performance and high sensitivity detects your movement accurately.

EASY INSTALLATION:

 

 With adhesive tape and magnetic strip, no tools, screws or nuts required. You can stick anywhere. 

SPECIFICATION:

Working voltage: DC3V-6V
Delay time: 15s
Light color: white / warm white
Super sensitivity distance: about 3-5 meters
Material: aluminum shell