Are you a busy bee who spends most weekends sleeping and doing house chores or trying to find time for hobbies but rarely to cut your split, rough hair ends? And even if you find the time, do you do a sloppy job and cut your ends unevenly? 
The Hair Splits Trimmer Set will help you cut split ends quickly, easily, and evenly! The set combines a hair trimmer, styling comb, section clips, two trim spacers, and a USB cable for the trimmer to help you fix your hair at home (or fix others' if you're a professional) to rock any hairstyle!
Don't let split ends ruin your day, order now!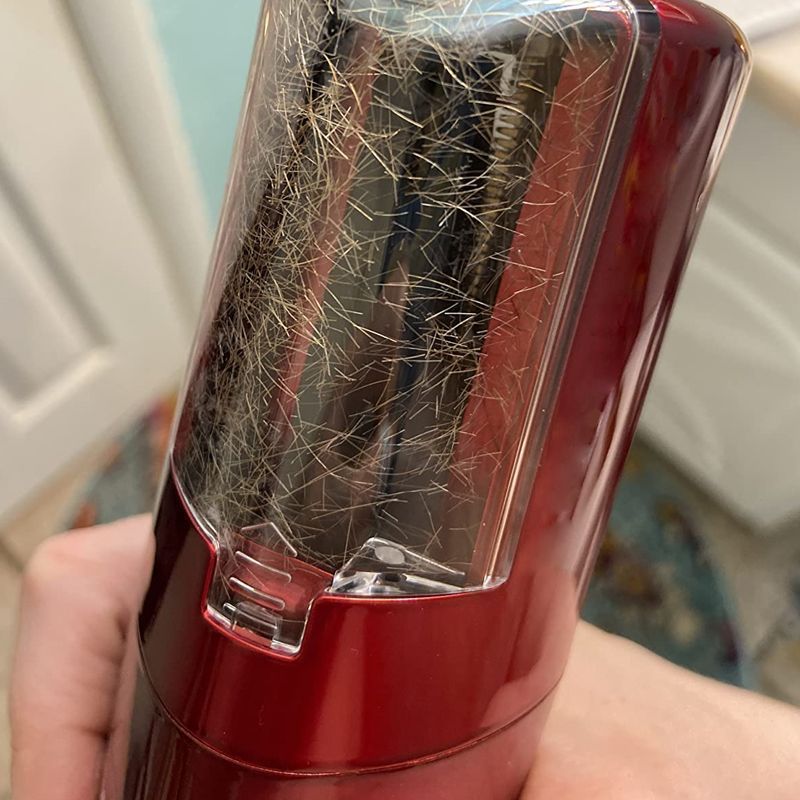 ✓  Hair Trimmer + styling comb: it helps detangle hair before treatment; use the forked end to section your or your client's hair right before using the hair trimmer.
✓  Sectioning clips: Use them to keep away the untreated hair from the already treated hair section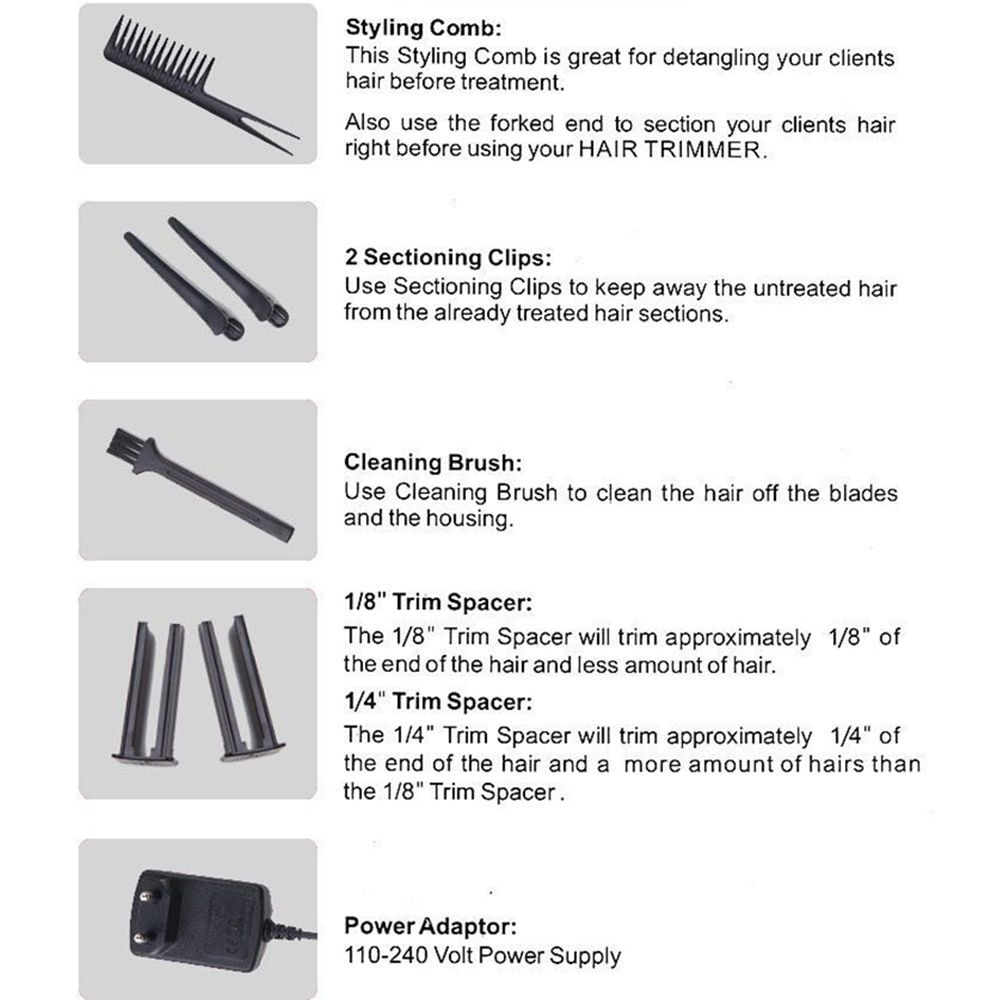 ✓  Cleaning brush: Use it to clean the hair off the blades and the housing.
✓  1/8″ Trim Spacer: Trims approximately 1/8″ of the end of the hair and less amount of hair.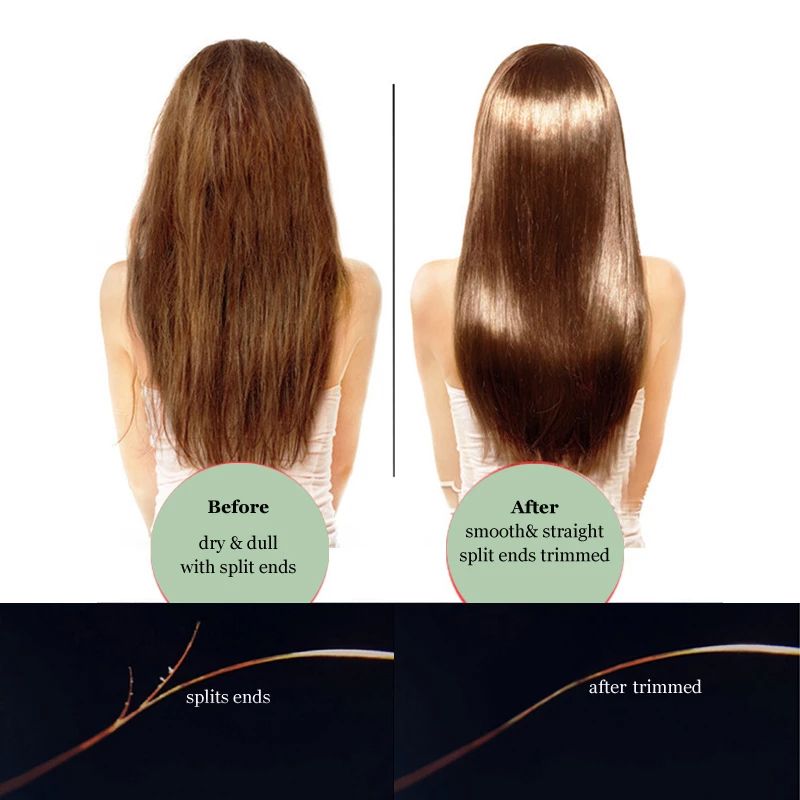 ✓  1/4″ Trim Spacer: Trims approximately 1/4″ of hair ends and a more amount of hair than the 1/8."
✓  USB cable to go with your trimmer and do the job at home or anywhere, anytime you like.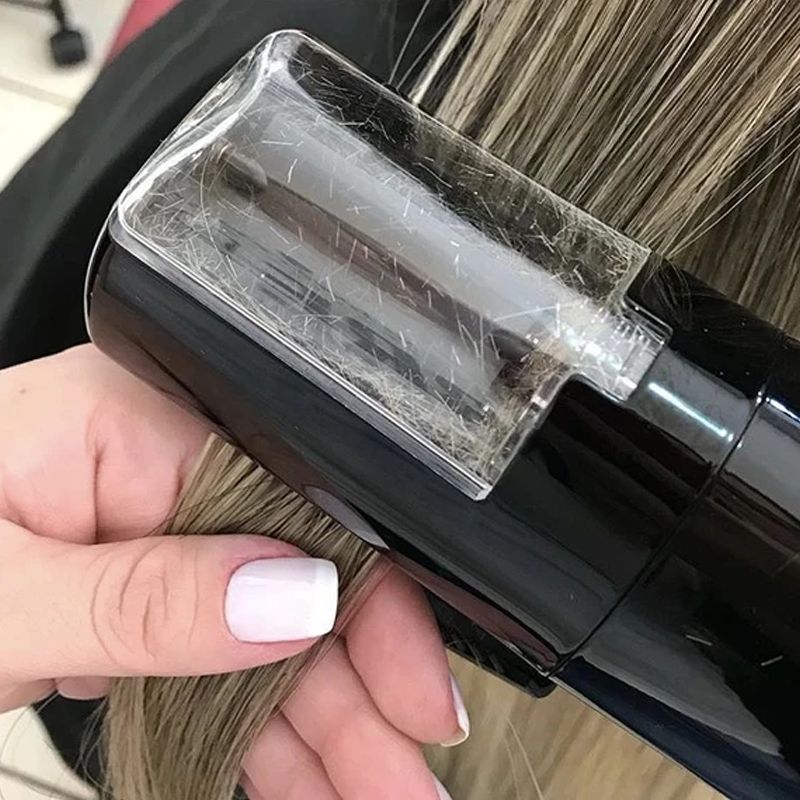 ✓  Specifications :

Material: Titanium + Ceramic
Color: As shown in images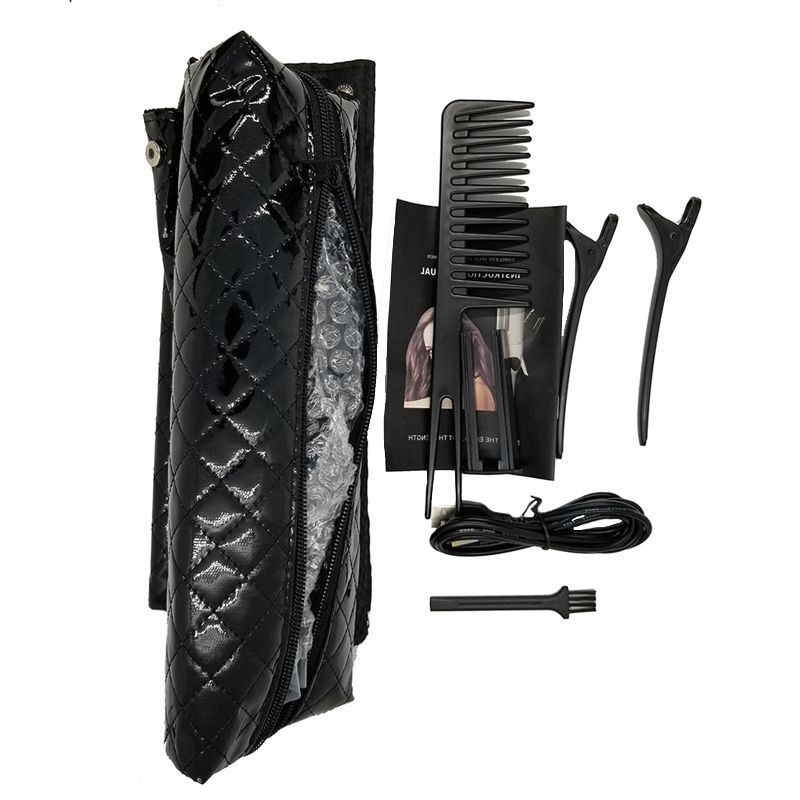 ✓  Package List: :

1* hair trimmer
1* storage bag
2* clips
1* comb
1* cleaning brush
2* spacers
1* USB Cable
Hair Splits Trimmer Set
Description

Are you a busy bee who spends most weekends sleeping and doing house chores or trying to find time for hobbies but rarely to cut your split, rough hair ends? And even if you find the time, do you do a sloppy job and cut your ends unevenly? 

 

The Hair Splits Trimmer Set will help you cut split ends quickly, easily, and evenly! The set combines a hair trimmer, styling comb, section clips, two trim spacers, and a USB cable for the trimmer to help you fix your hair at home (or fix others' if you're a professional) to rock any hairstyle!

Don't let split ends ruin your day, order now!

 

✓  Hair Trimmer + styling comb: it helps detangle hair before treatment; use the forked end to section your or your client's hair right before using the hair trimmer.

✓  Sectioning clips: Use them to keep away the untreated hair from the already treated hair section

 

 

✓  Cleaning brush: Use it to clean the hair off the blades and the housing.

✓  1/8″ Trim Spacer: Trims approximately 1/8″ of the end of the hair and less amount of hair.

 

 

✓  1/4″ Trim Spacer: Trims approximately 1/4″ of hair ends and a more amount of hair than the 1/8."

✓  USB cable to go with your trimmer and do the job at home or anywhere, anytime you like.

 

 

 


✓  Specifications :


Material: Titanium + Ceramic

Color: As shown in images

 

 


✓  Package List: :


1* hair trimmer

1* storage bag

2* clips

1* comb

1* cleaning brush

2* spacers

1* USB Cable