Fits all standard bathroom sink with

 1-1/2" to 1-3/4" drain hole

(1.45 to 1.96 inches).

Modernize your bathroom with our innovative basin drain. Basin Pop-up Drain Filter
 is designed with an 
inner well-structured basket strainer
 that neatly 
collects hairs, jewelry, dirt, and anything
, preventing the drain from
clogging up

.

Pop-up design
overturns the traditional, inconvenient drain (e.g. basic plug with chain)! Just press the top cap down gently to switch 2 modes –
stopper
(to keep the water) and
strainer
(to drain off the water).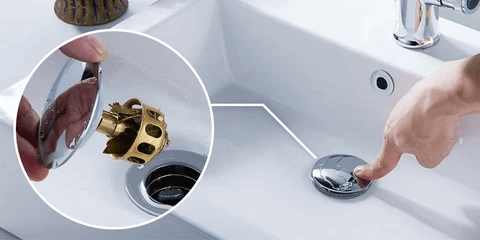 MAIN FEATURES
✔️Anti-Clogging Design
The inner well-structured 

basket strainer neatly

 

collects hairs, jewelry, dirt,

 and anything, preventing the drain from clogging up.
✔️Pop-up by a Press
Acts a bathtub/ basin stopper. A convenient push-button makes it easier to drain or fill the water.
✔️Durable Material
Made of 

rust-resistant, anti-cracking stainless

 steel. Integrally molded and seamless.
✔️No Water Leakage
Structured with a thickened stepped 

silica-gel gasket

, 

preventing water leakage. 

Oxidation resistance and leakage proof.
✔️Easy Installation

No tools are needed -

Just take out the old one and insert the pop-up drain filter. Thickened and extended nut allows it to be mounted with

 bare hands.

✔️Universal Size
Fits all standard American bathroom sink with

1-1/2" to 1-3/4" drain hole

(1.45 to 1.96 inches).
✔️Elegant Finish
Industry-leading silver finish with the 

highly glossed 

surface as bright as a mirror. 

Not BRUSHED nor MATTE finish

. Built to resist daily 

scratches, corrosions, and tarnishing

.
SPECIFICATIONS
·Product Weight:  

48g
·Material: Brass
·Product Size: As the following pic shows
·Package Contents: Basin Pop-up Drain Filter × 1
Basin Pop-up Drain Filter
Basin Pop-up Drain Filter
Description

Fits all standard bathroom sink with

 1-1/2" to 1-3/4" drain hole

(1.45 to 1.96 inches).

Modernize your bathroom with our innovative basin drain. Basin Pop-up Drain Filter

 is designed with an 

inner well-structured basket strainer

 that neatly 

collects hairs, jewelry, dirt, and anything

, preventing the drain from

 

clogging up

.
Pop-up design 

overturns the traditional, inconvenient drain (e.g. basic plug with chain)! Just press the top cap down gently to switch 2 modes –

 

stopper

 

(to keep the water) and

 

strainer

 

(to drain off the water).

MAIN FEATURES

✔️Anti-Clogging Design
The inner well-structured 

basket strainer neatly

 

collects hairs, jewelry, dirt,

 and anything, preventing the drain from clogging up.
✔️Pop-up by a Press
Acts a bathtub/ basin stopper. A convenient push-button makes it easier to drain or fill the water.
✔️Durable Material
Made of 

rust-resistant, anti-cracking stainless

 steel. Integrally molded and seamless.
✔️No Water Leakage
Structured with a thickened stepped 

silica-gel gasket

, 

preventing water leakage. 

Oxidation resistance and leakage proof.
✔️Easy Installation

No tools are needed -

Just take out the old one and insert the pop-up drain filter. Thickened and extended nut allows it to be mounted with

 bare hands.

✔️Universal Size
Fits all standard American bathroom sink with

1-1/2" to 1-3/4" drain hole

(1.45 to 1.96 inches).
✔️Elegant Finish
Industry-leading silver finish with the 

highly glossed 

surface as bright as a mirror. 

Not BRUSHED nor MATTE finish

. Built to resist daily 

scratches, corrosions, and tarnishing

.

SPECIFICATIONS

·Product Weight:  

48g
·Material: Brass
·Product Size: As the following pic shows
·Package Contents: Basin Pop-up Drain Filter × 1